Welcome To COMMAND PRESENTS!
COMMAND PRESENTS offers only the highest quality products for you to commemorate that special tour of duty or affiliation with a special organization.  Please also note that every product we make is custom-made for each customer;  there is no "off the shelf" purchasing of mass-produced products at COMMAND PRESENTS.  This involves a certain amount of "back and forth" between us and our customers to ensure you get the product you want, but that's the fun part of this business…we love interacting with our customers!
Due to the personalized nature of our products, we will ask for payment when orders are placed.
Be sure to checkout our Testimonials.
---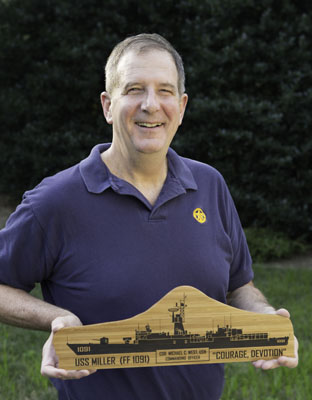 Meet Mike West, the owner of COMMAND PRESENTS.
Mike is a retired U.S. Navy Surface Warfare Officer who spent his career in cruiser-destroyer type ships. His shipboard tours included time in the USS COCHRANE (DDG 21) home ported in Pearl Harbor, USS AGERHOLM (DD-826) in San Diego, USS JOHN PAUL JONES (DDG-32), USS DENVER (LPD-9) in San Diego, USS LASALLE (AGF-3) in the Persian Gulf, USS WHIPPLE (FF-1062) in Pearl Harbor, and command of the USS MILLER (FF-1091), home ported in Newport, RI.
Mike started COMMAND PRESENTS in 1990 for the sole purpose of providing the very finest end-of-tour and end-of-career mementos to the military and corporate market.  When not working on COMMAND PRESENTS, Mike's hobbies include flying (he enjoys aerobatic flying, is a qualified seaplane pilot, and loves cross-country flying in old Stearman open cockpit biplanes).  He is also an amateur "ham" radio operator, whose call sign is KT3USN.
---